Voice Over Demo Recording with Such A Voice.

For over a decade, Energy Command Studios has teamed up with the national Voice Over production company Such A Voice to help hundreds of people in the Midwest & Chicago area evolve into the world of Voice Over recording. Artists working with Such A Voice have come from several states ranging from Wisconisn, Illinois, Michigan, Ohio, Missouri, Indiana, Iowa, & Minnesota - to record here at our studios in the Chicagoland area!

Based on your proximity to Chicago, recordings may be done at one of the studio locations in the Chicagoland area - often in Arlington Heights or the Northwest side of Chicago or McHenry County area.

If you are interested in learning more about the world of Voice Overs or are seeking Voice Over Training & Demo Production, click the Such A Voice logo link below for your introduction. And, depending on the pursuit of your goals & training with Such A Voice, you may record your demo at one of our studio locations with a Such A Voice producer.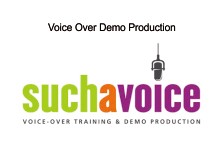 Voice Over Demo recording with Such A Voice.
Such A Voice talent should contact their producer
for more information about their scheduled session.

If you require other information, feel free to contact us.